2 Tech Companies Outpacing the Market
Posted On May 19, 2020 4:13 pm
By: admin
---
The global pandemic created a deflationary spiral in March that sent asset prices appreciably lower across all asset classes. Record levels of central bank and government stimulus programs have stabilized the stock market. However, the hopes of a continuation of a V-shaped recovery declined last week as selling returned to the equity arena.
A dramatic spike in unemployment, contraction in GDP, and uncertainty about Coronavirus's future course continue to weigh on the prospects for a recovery. Since late March the rise in the stock market may have been nothing more than a mirage created by a tidal wave of liquidity and short-term financial band-aids for individuals and companies.  While many sectors of the economy continue to falter, technology has fared best. People in the US and around the globe are staying close to home. Technology provides a link to the outside world. Two companies that have done well, compared to the rest of the stock market, in the current environment have been Advanced Micro Devices, Inc. (AMD) and NVIDIA Corporation (NVDA – Rated "A" – Strong Buy).
It's all about tech- Look at the NASDAQ
On February 19, the NASDAQ composite index hit an all-time high of 9,838.37. The tech-heavy index looked like it was steaming its way to the 10,000 level and higher until it ran into a global pandemic.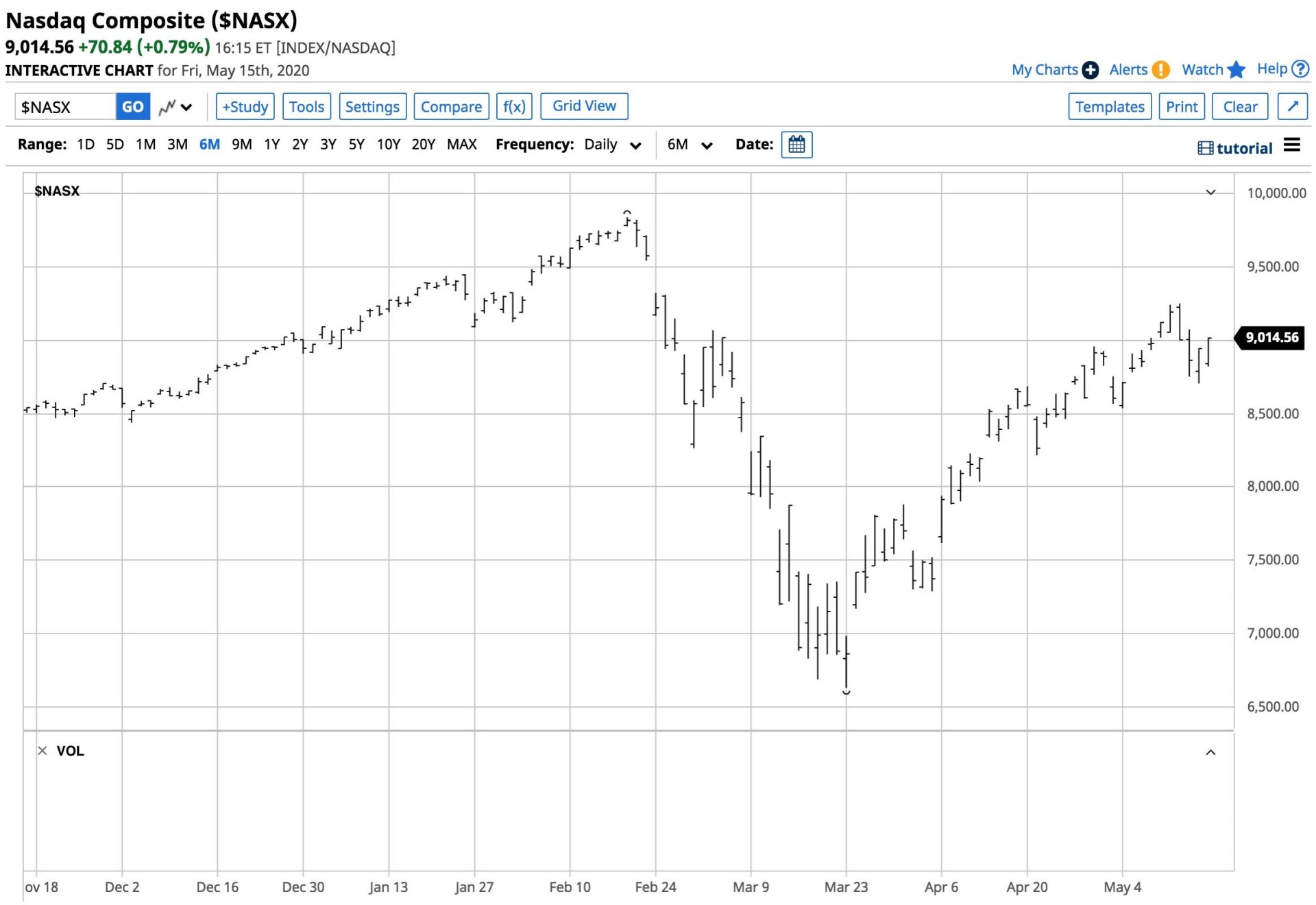 (Source: Barchart)
A little over one month later, the NASDAQ reached a low of 6,631.42, 32.6% below the high, and to the lowest level since early 2019. The NASDAQ fell like a stone, but it outperformed most of the other leading stock market barometers. The chart shows that an almost V-shaped recovery in the NASDAQ. The rally lifted it to a high of 9,250.19 on May 12, under 6.5% below the all-time peak. The index was just over the 9000 level on Friday, May 15. Technology companies have done the best during the risk-off period that has hit markets across all asset classes like a ton of bricks.
Advanced Micro Devices- Virus proof, so far
Advanced Micro Devices (AMD) manufacturers semiconductors. The company has two segments, Computing and Graphics, and Enterprise, Embedded, and Semi-Custom. AMD has been around since 1969. The company has a market cap of $63.479 billion at a share price of $54.20 on May 15. AMD is a highly liquid stock with over 83.4 million shares changing hands on average each day.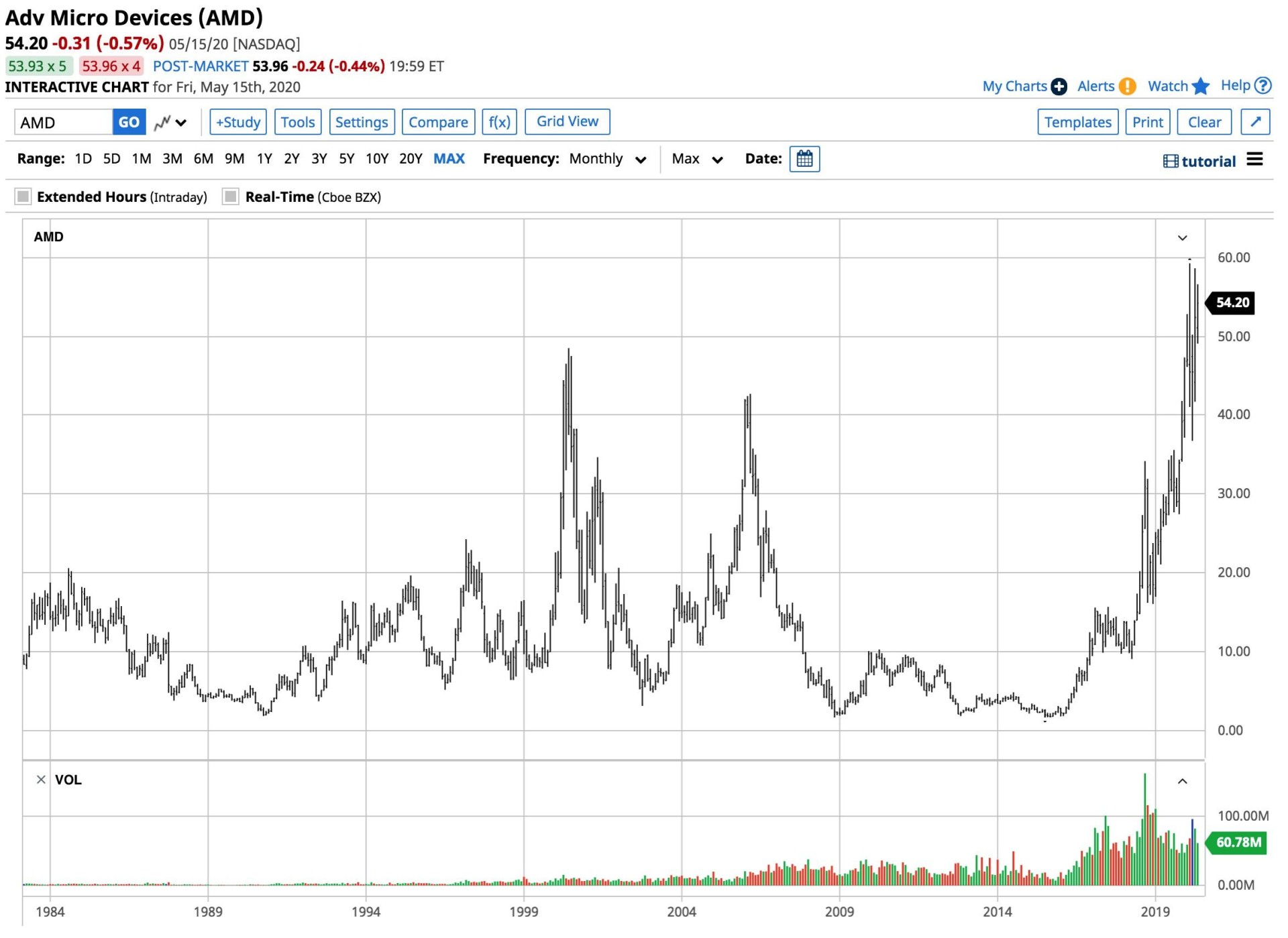 The long-term chart shows that AMD reached a record high in February 2020 at $59.29 per share. The share price fell to $36.75 in March during the height of risk-off selling in the stock market and came storming back in April and May.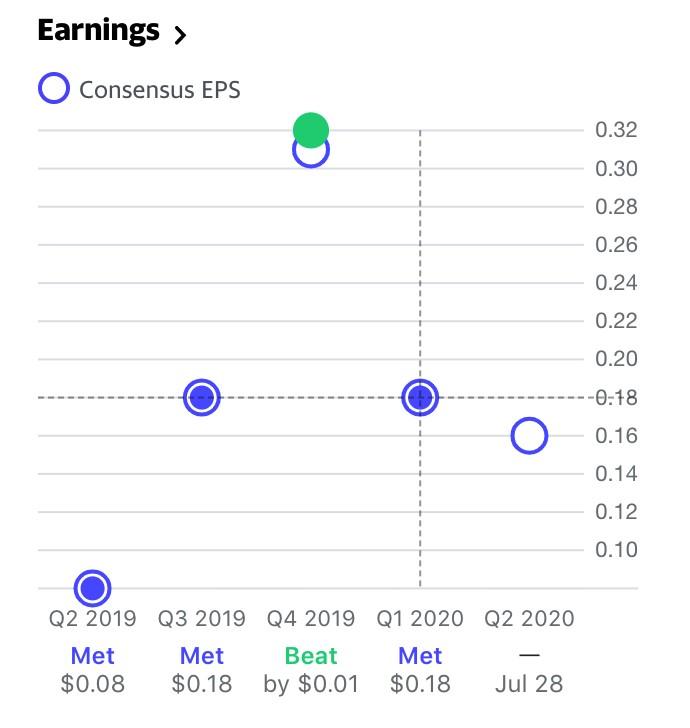 (Source: Yahoo Finance)
The chart illustrates that AMD's Q1 earnings came in at 18 cents per share, at the average consensus level. The company tends to meet or beat estimates when reporting EPS. AMD's products are crucial components for game consoles, desktop PCs, and notebooks. With more people working from home and
Continue reading at STOCKNEWS.com