4 Nasdaq Stocks to Buy NOW, Before They RALLY
Posted On September 18, 2020 1:51 pm
By: Admin
---
This has been one of the more volatile years that I can remember for the Nasdaq composite index. The index opened the year at 9,039.46 and rose to a closing price of 9,817.18, on February 19th, a gain of 9.41%. Then came fear from the pandemic. The index dropped to a low of 6,631.42 on March 23rd, before closing the day at 6,860.67, a 30.1% loss.
Since then, tech stocks have been soaring due to work-from-home and social distancing trends. The index climbed to an all-time high of 12,074.06, before closing September 2nd at 12,056.44, a gain of 75.7%.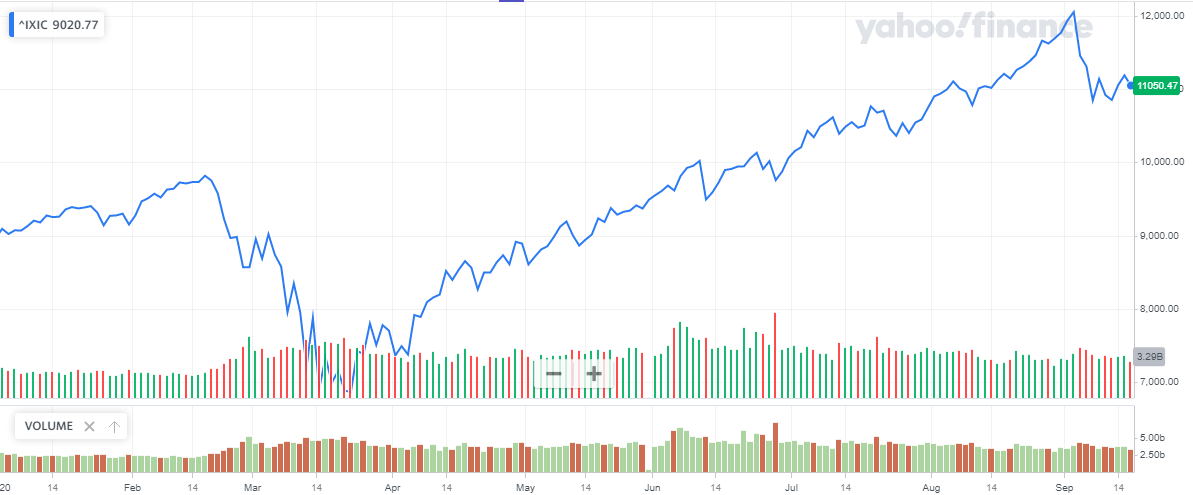 Source: Yahoo! Finance
The tech stocks that had previously been red hot since March reversed course again this month. The Nasdaq Composite has been down five out of the past nine trading days and is down 8% since September 2nd. Whether this is the beginning of a much larger selloff or just short-term weakness, one thing is for sure. Many tech stocks are trading at much more affordable prices than they were last month.
This recent weakness provides us a great buying opportunity. There are several tech companies with business models I like trading lower this month and worth a look, such as: eBay (EBAY – Get Rating), Applied Materials (AMAT – Get Rating), Cisco Systems (CSCO – Get Rating), and KLA Corporation (KLAC – Get Rating).
eBay (EBAY – Get Rating) 
As most investors and consumers know, eBay operates as an online shopping site that allows visitors to browse through products listed for sale or at auction. The company has evolved from a small user-based auction site to a worldwide shopping store. Since it separated from PayPal (PYPL) in 2015, its marketplace business is the company's key growth driver.
The company had a strong second-quarter, as more consumers shopped online due to shelter at home orders in many regions. Revenue increased 18% to $2.9 million. This was fueled by a 26% increase in gross merchandise volume, which is the company's total value of transactions processed. As the company makes the bulk of its revenue through gross merchandise volume, this is a strong sign. EBAY forecasted third-quarter revenue to be between $2.6 billion and $2.7 billion and raised its full-year guidance to $10.6 billion.
The company also appointed a new CEO in April. Jamie Iannone, who came from Walmart's e-commerce division, is looking to implement technology enhancements by focusing on its customers. His plans include applying artificial intelligence to the platform to enhance the experience for buyers and sellers.
The stock is currently down 10.4% for the month, and its valuation metrics are looking quite attractive right now with a P/E of 18.4 and an EV/EBITDA of 11.3. The company's profitability numbers are off the charts with a return on equity of 173.1% and a return on invested capital (ROIC) of 44.1%. The stock is currently rated a "BUY" in our POWR Ratings system. The company holds grades of "B" in Buy & Hold Grade, Peer Grade, and Industry Rank, three out of the four components that make up the rankings.
Applied Materials (AMAT – Get Rating) 
AMAT is one of the world's largest suppliers of equipment for the fabrication of semiconductors, flat panel liquid crystal displays, and solar photovoltaic cells and modules. Also, the company provides deployment and support services related to the equipment it supplies. Operations are run through three segments: Semiconductor Systems, Applied Global Services, and Display and Adjacent Markets.
The company reported a…
Continue reading at STOCKNEWS.com