Bitcoin and Ethereum: No Safety Net
Posted On August 30, 2022 1:28 pm
By: Admin
---
Earlier this month, I updated on the crypto market with a title, 'It Ain't Over Yet". I considered the recent strength in the main cryptocurrencies a "dead-cat bounce" within a classic sideways consolidation with a high probability of resuming collapse.
This time, I spotted new signals as the chart moves to the right building new bars over time. Let us start with the main coin in the weekly chart below.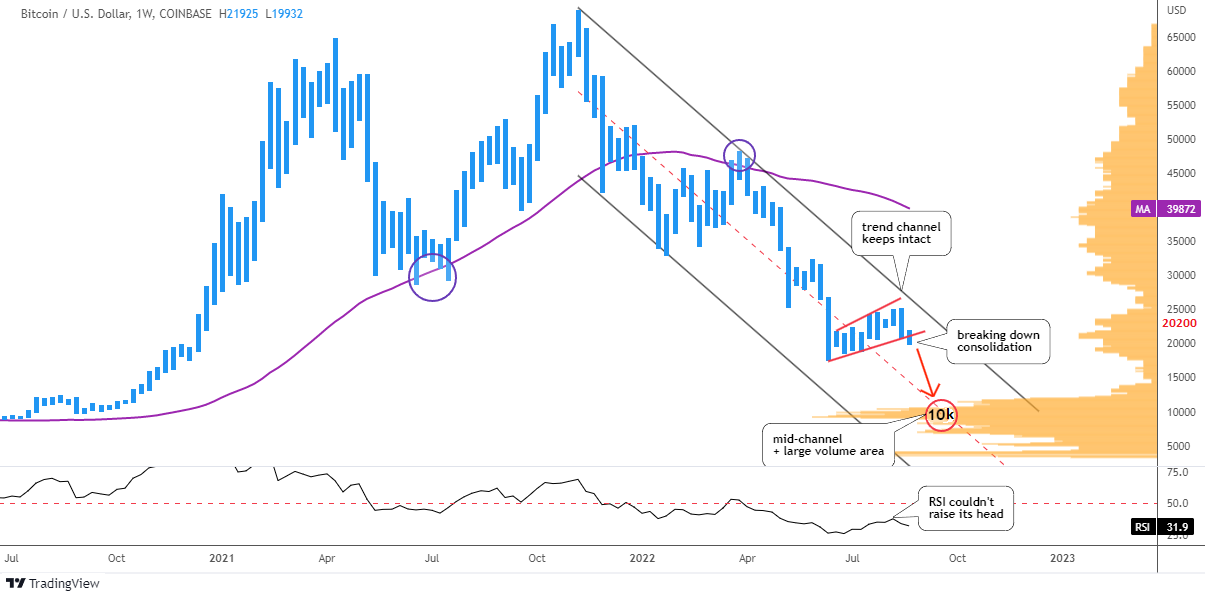 Source: TradingView
The price of Bitcoin moves within large bearish trend channel (black). The top of above-mentioned sideways consolidation within red trendlines did not even approach the resistance, it stays intact.
The RSI indicator could not raise its head to test the "waterline" of 50 level. This means that the market has considered this short-term strength as a "dead-cat bounce" as well.
The chart bar of last week has punctured below the red support. This is a harbinger of another drop. The main coin indeed is looking into the abyss as the strong support appears only after the price halves down. The largest area of the Volume Profile histogram (orange) is located between $9k and $10k. The mid-channel (red dashed) fortifies that support with its intersection.
Your biggest bet last time was the drop of the Bitcoin down to $12.2k, where the second leg down is equal to the first one. It almost coincides with…
Continue reading at INO.com